Quicktake: BPE, WordPiece, and SentencePiece
This post draws upon information from:
1 WordPiece, BPE, and SentencePiece
The mainstream tokenization for neural models can be summarized as "BPE by default, maybe SentencePiece for multilingual." BPE-dropout may become more widespread due to its simplicity.
Byte-level BPE (BBPE) and SentencePiece (unigram) are the two most popular variants.
BPE vs. SentencePiece (unigram)

BPE is greedy and deterministic. It can't sample different tokenizations for the same string. BPE-dropout, however, introduces stochasticity.
In SentencePiece, tokens have probability, therefore sampling during tokenization is possible.

"Lossless" is a matter of extent.

BPE (GPT) is "fully" lossless. It keeps any length of consecutive spaces.
SentencePiece (XLNet) is "partially" lossless. It only keeps one space for multiple consecutive spaces.
WordPiece is lossy. It even doesn't preserve any space.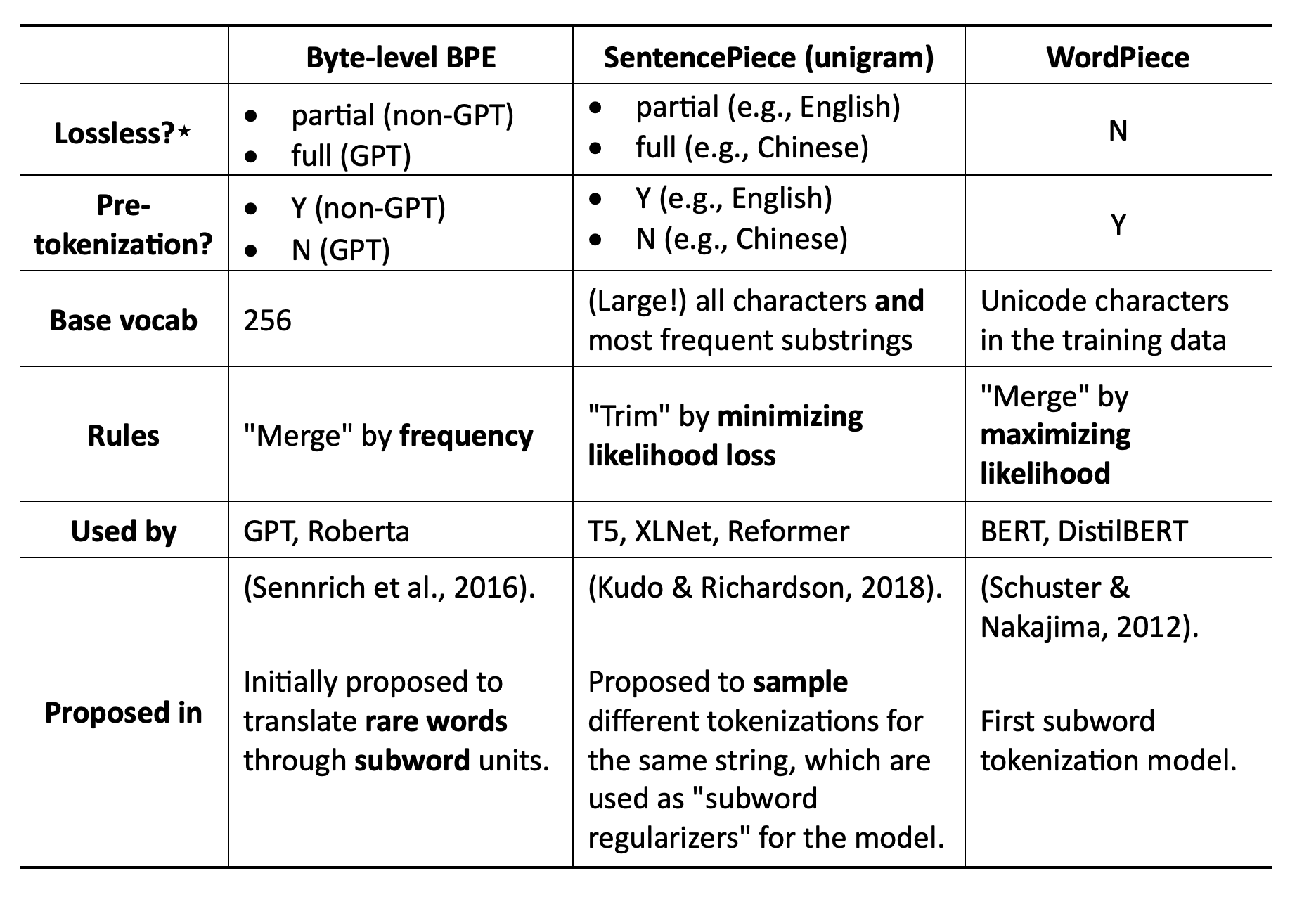 2 References
Penedo, G., Malartic, Q., Hesslow, D., Cojocaru, R., Cappelli, A., Alobeidli, H., Pannier, B., Almazrouei, E., & Launay, J. (2023). The RefinedWeb Dataset for Falcon LLM: Outperforming Curated Corpora with Web Data, and Web Data Only (arXiv:2306.01116). arXiv. https://doi.org/10.48550/arXiv.2306.01116
Dowling, M., & Lucey, B. (2023). ChatGPT for (Finance) research: The Bananarama Conjecture. Finance Research Letters, 53, 103662. https://doi.org/10.1016/j.frl.2023.103662
Xiong, R., Yang, Y., He, D., Zheng, K., Zheng, S., Xing, C., Zhang, H., Lan, Y., Wang, L., & Liu, T. (2020). On layer normalization in the transformer architecture. International Conference on Machine Learning, 10524–10533.
Sennrich, R., Haddow, B., & Birch, A. (2016). Neural Machine Translation of Rare Words with Subword Units (arXiv:1508.07909). arXiv. https://doi.org/10.48550/arXiv.1508.07909
Schuster, M., & Nakajima, K. (2012). Japanese and Korean voice search. 2012 IEEE International Conference on Acoustics, Speech and Signal Processing (ICASSP), 5149–5152. https://doi.org/10.1109/ICASSP.2012.6289079
Kudo, T., & Richardson, J. (2018). SentencePiece: A simple and language independent subword tokenizer and detokenizer for Neural Text Processing (arXiv:1808.06226). arXiv. https://doi.org/10.48550/arXiv.1808.06226